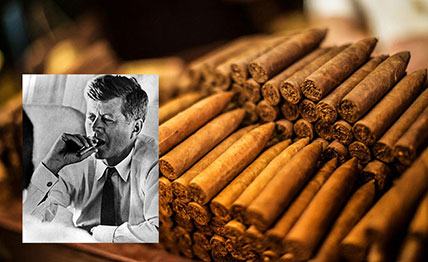 THE CONCEPT – Go ahead! Have an outstanding cigar and celebrate the future of your business becoming more successful. Does the content of your E Commerce website and your online marketing deliver spicy flavor and the finest handmade quality? Do your products and service reveal your own unique charisma and genius? That is what customers love to believe in.
HAVE A CIGAR – "A good Cuban cigar closes the door to the vulgarities of the world" Franz Liszt. In 1962 on the evening prior to President John F. Kennedy's imposed trade embargo on Cuba, he ordered press secretary Pierre Salinger to obtain 1,200 petit corona Cuban cigars. Upon Salinger's arrival with the cigars, the following morning, Kennedy signed the executive order which put the embargo into effect. As a kid growing up seeing TV images of President Kennedy having a cigar, and hearing stories about my Grandfather's cigar enjoyment has influenced me with this favorite rare pleasure I enjoy today.
HANDMADE – Occasionally, I like having a pleasant cigar after a great dinner with friends and family. I always keep a hand-full of La Aurora, and Fuente Opusx cigars aged in the humidor box my daughter gave me as a gift a few years ago. Fine quality cigars are still handmade today. An experienced cigar-roller can produce hundreds of exceptionally good, nearly identical, cigars per day.
ROASTED AROMA – Each brand and type of cigar tastes different. Quality cigar smoking has a vocabulary similar to that of wine-tasters to describe the overtones and undertones observed. Some words used to describe cigar flavor and texture include; chocolate, spicy, peppery, caramel, coffee bean, earthy, woody, chestnut, roasted, nutty, creamy, oak, lavender, and leathery.
---