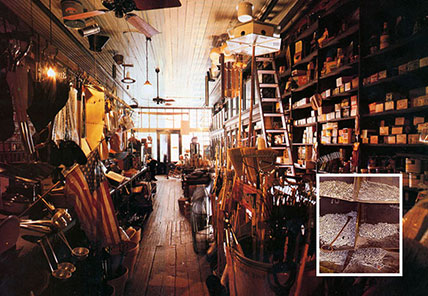 HARDWARE MAN – Do you need an ax or a pack of tacks? Growing up hanging out with Dad as his 'side-kid' made for many trips to every Hardware & Supply Store in my hometown area. Naturally this fun kid-experience put a love for hardware stores in me. Not so much the big-box stores, I prefer the old-fashioned 'small-box' stores, the family-owned hardware stores. The clerks are knowledgeable librarians who can locate the oddest and rarest items that no one else has heard of. Dad always knew the right slang name for everything so the clerks would dash directly to the correct shelf or bin. I enjoy the nostalgic stress-remedy of walking down the long overcrowded isles stacked with every handyman tool or item likely to ever need. The man-smells of fresh cut lumber, lamp oil, rubber, mixed paint, leather, oiled tools, and machines all transport me back through a portal of time. Old fashion family-owned hardware stores are hometown community centers and hideouts for the old-boys club.
BINS AND STACKS – When Martin Hardware called me to build their website, I was thrilled. Spending time with all the folks working there and the fun banter with customers passing through made for a really nostalgic assignment. I call it the handyman everything hardware store. Martin Hardware has been here in Charlottesville since 1893, 120 years, and it's family-owned. There is an old-fashioned feel about walking down the long quiet isles taking in the bins and stacks and rows filled with hooks, screws, nails, plumbing, wheel barrels and shovels.
THE CONCEPT – Rewiring your business for today's market place. Old-fashioned hardware stores are nostalgia of the past, however these brick and mortar establishments continue attracting business. They've been retrofitted, rewired for modern online e commerce success. No, it's not about websites; it's about online business. Gaining the rewards by moving your company into online activity must become your most urgent pursuit. Online business and digital marketing involves content that tells your unique entrepreneurial story. That's what customers love to believe in.
---