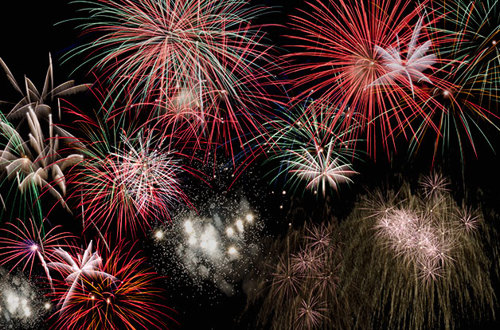 REBELS AFFRONT THE KING – The bombs bursting in the night sky, the nation is afire with American history. To his wife Abigail, John Adams wrote: "This day will be most memorable in the history of America. It will be celebrated by succeeding generations as the great anniversary festival." Therefore, that is what Americans do today.
HOWITZER CANNONS – A favorite 4th of July celebration I enjoyed was along the banks of the Charles River of Boston, Massachusetts. We were having a picnic and listening to Arthur Fiedler and the Boston Pops Orchestra perform at the Hatch Shell Amphitheater. After nightfall church bells began ringing, then real live howitzer cannons were fired off, and a great fireworks display on the river filled the night sky; all this to the tumultuous tune of the 1812 Overture played by the Boston Pops Orchestra. Since then, I have enjoyed the annual tradition of photographing fireworks displays.
EVIL SPIRITS – The earliest settlers brought their love of fireworks to America. Firings of black powder were used to celebrate holidays and to impress Native Americans. The discovery of gunpowder and the invention of fireworks are credited to the Chinese, over 1,000 years ago. The loud booms and firry displays of firecrackers were so loud that the Chinese were convinced that the noise would scare away evil spirits.
THE CONCEPT – In 1789, George Washington's inauguration was accompanied by a beautiful fireworks display. Celebrating our nation's heritage on Independence Day with fireworks, patriotic displays and praise to our nation is a testament to our national pride and unity. Celebrating your own business and its founding, building your companies traditions, and displaying spectacular pride in your entrepreneurial accomplishments reveals your refined genius. That is what your customers love to believe in. Get answers to your e commerce and online marketing questions.
---