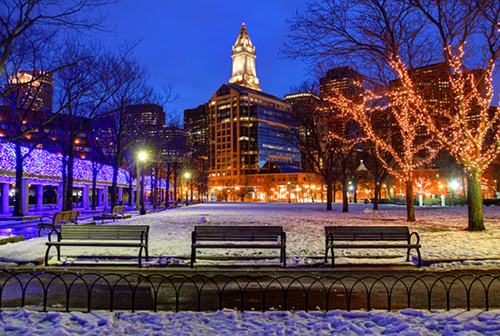 The rocky nook with hilltops three, Looked eastward from the farms, And twice each day the flowing sea, Took Boston in its arms; The men of yore were stout and poor, And sailed for bread to every shore… Ralph Waldo Emerson.
WALKING BOSTON – Known as the walking city, Boston has a sweet memory with images of youthful, fiery adventures when I first starting out in life, all fresh and naive in new love, in this new exuberant "City on a Hill." Here, at the long gone Boston Garden is where Pink Floyd, Yes, Allman Brothers Band, Areosmith, and others became part of my days of yore. Along the banks of the Charles River, we found our playground number-one at the Charles River Esplanade, where Hatch Memorial Shell performance stage delivered Arthur Fiedler and the Boston Pops Orchestra. Here is where 4th of July is officially experienced with "the shot heard around the world" that began the American Revolution.
FOLLOW THE RED BRICK ROAD – Freedom Trail in old town is where the tangle of streets are red bricked and really do traverse in circles, offering many fork-in-the-road pickings. Our favorite weekly shopping became the famous Farmers Market called Haymarket – the iconic open-air market that goes back 200 years. Later, for supper – bluefish, mussels, or seafood-everything, with dear friends along the harbor pier at that odd restaurant with no name. The "No Name Restaurant" still famous today for over 100 years, became our gang's select spot for best, fresh seafood outings, followed by a pub or two for a few pints of rebel-rousing.
CITY ON A HILL – Red Socks Fenway Ball Park, Fenway Rose Garden, Isabella Stewart Gardner Museum, Museum of Fine Arts, T-Trains on the subway, Boston Common, Bunker Hill, Old North Church, USS Constitution, Copley Square, Newbury Street, Prudential Tower, John Hancock Tower, and many memorable experiences flowing out of Bean Town dreams.
VILLAGE ATTITUDE – Keeping an attitude similar to Boston's old world shop owners is still the rock of good business in spite of changing technology. That attitude remains to be about relationships – consistently communicating with your village and merchants. Building your business traditions, telling your personal stories – these are the values customers love to believe in. You can no longer be just another website.
---