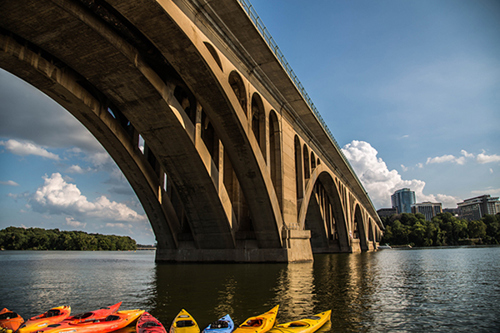 SALOONS ALONG THE POTOMAC – Carl Sandburg - "The Washington monument pointed to a new moon for us and a gang from over the river sang ragtime to a ukelele. The river mist marched up and down the Potomac, we hunted the fog-swept…" Canoeing the Potomac River from Jack's boat house under Key Bridge all the way to Chain Bridge and back is a memory of calm solitude and rebel-rousing. About 8 miles round trip – often Friday evenings, a friend, Pete and I would rush down to the dock after work for our weekly workout paddle. The rousing festive part came after racking our canoe to the rented slip, ($10.00 a month) followed by the rest of the night walking along M Street in Georgetown. Touring M Street involved noisy imbibing across the night – hopping in and out of popular saloons crowded with friendly Georgetown U Nurses.
QUIET TWILIGHT – The M Street part of those Friday nights certainly provided a lot of bustling excitement, and festive fun, however the canoeing part of the evening hours remains serene in my bones with a lifelong memory of smooth, tranquil river paddling. Our quiet twilight canoeing brought each other whispering stroke commands as we navigated stealth-like, using Indian strokes, J strokes, and Cruising strokes. Our quiet, peaceful canoeing was rarely broken except by an occasional Scull Crew Coxswain barking the cadence as passing by.
THE CONCEPT – Results give guidance, showing that businesses with an integrated CMS platform begin to navigate toward smooth, calm outcomes, having advanced sales and customer database intelligence. You can no longer be just another website – customers demand integrated functionality with vital business tools online. This is how you can prevent your business from showing signs of becoming an old boat dock under the bridge?
FUTURE PROOF – Begin to celebrate the future-proofing of your business. Celebrating your business and its founding, building your companies traditions, and your personal story is what customers love to believe in. Get answers to e-commerce and online marketing questions…
---