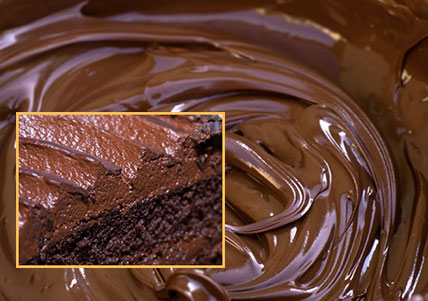 PURPLE BEAN CAKE – Chocolate cake for breakfast, chocolate cake on spaghetti, dark chocolate cake after midnight, muddy chocolate cake forever whenever! Did you know that chocolate cake baking is a form of communicating? When I would start baking, a certain young girlie would climb up on the counter and we would talk-story about life as chocolate. 'Life is a box of chocolates' said Forrest Gump. Willy Wonka taught us about the irresistible nature of chocolate. The muddy gooey drippy mound of happiness has been one of my favorite pursuits for years; endeavoring to create the best chocolate cake.
DARK SECRETS – It's a cacao tree - the flowers and fruits grow out of the branches including the lower trunk of the tree. The red-brown fruit is about the size and shape of a football, with bumpy ridges. Inside, the purplish bean is the raw ingredient for our favorite chocolate pleasures. Quality of ingredients, precision measurements, accurate timing, creative flamboyance, and tempting presentation all leads to luscious success every time. The reward in part becomes many deep dark secrets shared in the most intimate settings.
THE CONCEPT – Are you using the 'Golden Ticket' that sends your business across half the world? Unifying it all together, unifying the delicious ingredients combined to successfully 'bake your cake' – or build and communicate your business. Not just a website; it is about online business. Online business and digital marketing involves content that tells your unique entrepreneurial story. That is what customers love to believe in.
---