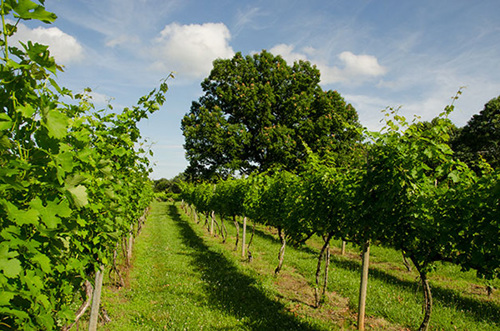 VINES IN THE VINEYARD – "Day-colored wine, night-colored wine, wine with purple feet or wine with topaz blood, wine, starry child of earth, wine, smooth as a golden sword, soft as lascivious velvet…"Pablo Neruda.
ASSIGNMENT – I am really enjoying a current photography assignment at Wisdom Oak Winery. Living just two miles from the winery is convenient, considering the weather conditions have been unpredictable lately. It is handy and quick to stop everything else and scoot over to WOW just when the sky says now. Early morning, late afternoon, and certain stormy moments offer the best lighting conditions. As this project continues through harvest time and into autumn, I am excited to capture all the varieties of dramatic beauty the vineyard has to display.
WINE AND FOOD – I did not know that Provolone cheese with a Chardonnay tastes so good. Of course, taste and pairing wine with food is very subjective. There is enjoyment in discovering matched flavors you prefer individually. However, the art of pairing has become a relatively recent phenomenon with many books and media charting the best suggestions of great tasting contrasts and weight matching. Occasionally, I gourmet up a flamboyant (from scratch) spaghetti dinner for family and friends, always paired with Cabernet Franc, and Ruffino Chianti Classico, and soon to be Wisdom Oak Winery, Cabernet Franc Reserve.
THE CONCEPT – Day-colored wine, night-colored wine, Pablo Neruda's poem is a great match for the pleasures associated with wine and food enjoyment. Similarly, the right combination of life-to-business-marketing pairings brings these related elements together nicely to reveal your refined genius. That is what your customers love to believe in. Get answers to your e commerce and online marketing questions.
---